Three G/SE SOTA Peaks

Having a couple of days of free from work, I decided to spend one of them indulging in two of my hobbies; cycling and amateur radio.


SOTA

I'd recently tried out
SOTA
(Summits On The Air), activating
G/SE-001 Walbury Hill
(the G means England, SE is Southern England, 001 is the serial number of the hill). SOTA is an amateur radio activity where you carry radio equipment to the top of a hill and make as many contacts as you can, with a minimum of four to qualify the activation. Not just any hill is acceptable though; it needs to have a prominence of at least 150m above the surrounding land, and you have to set up your equipment within 25m vertically of the summit. This means that you need to carry at least a transceiver, power supply, antenna and log book to note down the contacts that you made.


Cycling

My main physical activity is fast long distance cycling, being a member of both
Audax UK
and the
Ultra Marathon Cyclists Association (UMCA)
. I take part in the UMCA
Year-Rounder
challenge, which involves riding at least one ride of at least 100 miles each calendar month. These rides have to be done with an average speed of at least 8.33mph, including any stops. If you want time off the bike to eat (or sleep on longer rides) then you have to ride faster to build up a time buffer. My preferred distance is 600km+ (375 miles+), which has a time limit of 40 hours, I try to do at least one "Long" ride every month - which is at least 150 miles in 18 hours.

The Challenge

Fairly local to me are three SOTA summits.
G/SE-002 Leith Hill
,
G/SE-003 Black Down
and
G/SE-004 Butser Hill
. Looking at activation reports for these, they are all accessible to some degree by bicycle - even if that involves some pushing up paths on the final ascent. A loop from my home to each of these in order would be a little over 100 miles. That's an easy ride, but the time buffer I'd build up on the road would be eaten up by the unpredictable nature of activating the summits; it takes time to set up the equipment and you cannot guarantee how long it will take to make the four contacts. Also, when riding Ultra/Audax rides I normally don't have a 22lb pannier full of radio gear!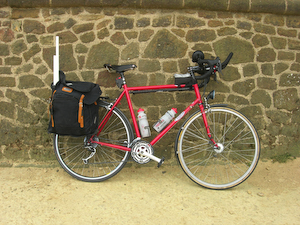 I took my trusty Thorn Audax MK3 bike, which has served me well on many long rides. This is part way between a race bike and a tourer, so it is able to cope with a bit of rough stuff and it has a pannier rack so can carry the radio gear. The bike is designed for fast touring, so has a relatively low load limit. I was over the recommended weight (17lbs) but within the absolute maximum load (33lbs). Navigation and tracklog recording was performed using my usual Garmin 705, but unfortunately the heart rate monitor didn't work (a flat battery in the chest strap).

Being summer I didn't need to take any extra clothes other than a light breathable jacket in case of either rain or wind chill whilst sitting on top of hills dressed in my cycling lycra. My normal minimal Audax toolkit and spares don't take up much room or add much weight.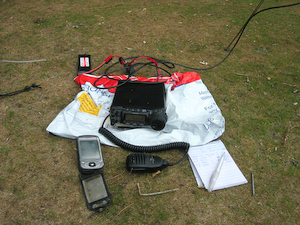 For the radio side I took my Yaesu FT-857D "shack in a box", capable of all mode operation between HF and UHF. Power came from a couple of 4 cell LiPo model aircraft packs, together with a home made diode box to drop the voltage to safe levels for the radio when the packs are fully charged. For the antenna I took my home brewed 2m dipole (which can be mounted vertically for FM or horizontally for SSB - very similar to the
SOTA Beams MFD
), and an ATX walkabout and counterpoise for HF. Last time I operated SOTA I took a guyed out fishing pole to raise a 40m dipole and my VHF aerial, but I couldn't fit this on my bike. I took a lightweight camera tripod which I hoped to use instead. Finally I had my VX-5 triband handheld as a backup radio.

For comfort I took a folding cushion to sit on whilst operating (much like a backpacking sleep mat, but only about a foot square and folding rather than rolling), and of course some sandwiches, bananas and drinks.
Part 1 - Leith Hill, 295m

I left home much later than intended, and wasn't fresh as I'd ridden a hilly 10 club time trial the night before. I got caught up in bad traffic around Guildford, where some temporary traffic lights were causing massive tailbacks. The roads weren't wide enough to safely ride around the stationary cars, so I ended up queuing with them and arriving at the hill an hour and a half behind schedule. I had a hard limit of needing to be back in time to go to the cycling club's monthly meeting.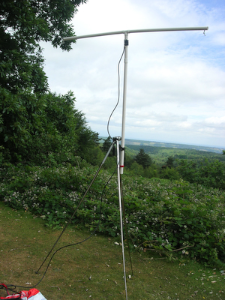 There is a fairly easy to ride path up to the tower; you wouldn't want to do it on a full-on road bike, but my Audax bike with 28mm tyres coped OK. As you go up, there are a couple of paths signposted to the summit but saying "No Cycling". If you go past these (i.e. don't turn up them) you'll find a wider path that runs parallel to them where you are allowed to ride. I went to the refreshments kiosk on the side of the tower, where a coffee and a piece of home baked flapjack cost a very reasonable £1.30.

The radio gear was set up on the side of the field as far away from the tower as I could get - though there were very few other visitors around. One couple turned up on mountain bikes, another on foot just as I was leaving. I tried setting up the dipole on the tripod, which worked for a while - until the wind rose and it all collapsed into a heap. Holding it up I managed to qualify the summit on VHF quite quickly, with some pleasant chats. I didn't try HF as I was up against a time limit, so packed up and rode off.


Part 2 - Black Down, 280m

When riding normally, you look at hills in the distance and hope you don't have to climb them. Even if you know you have to, you can console yourself knowing that the road will likely go through a bit of a pass rather over the top. This trip was different; by definition, the SOTA peaks are the highest points around, and also by definition you have to go right to the top of them - so seeing a hill in the distance fills you with more climbing dread than usual.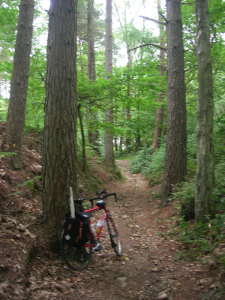 The day was warming up too, even though there was some cloud cover, so I started to become a little concerned about the amount of liquid I had on me - knowing that there were would be no facilities on the next hill. I bough a couple of small bottles at a convenience store, which would hopefully see me to Petersfield.

The main paths up the hill were quite sandy - except for the way that I entered the area, which meant engaging the 24" gear (two feet). I was pleased that I'd put the actual summit points into the GPS, as otherwise I'd never have found the trig point. The only paths to it were narrow animal paths, which were a challenge with the bike.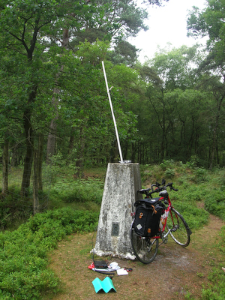 I set up the VHF antenna on the trig point itself, using velcro to tie the folded up camera tripod across the pole to stop it sliding down inside the point. I had trouble qualifying this summit; it is very wooded, the VHF takeoff isn't great and I had trouble tuning up the HF. In retrospect, I'd probably have been better taking a wire dipole for HF and stringing it up in the trees. I did take the opportunity to eat some lunch, though with the the trees I didn't have much of a view, and I used a lot of battery power chasing contacts.

Part 3 - Butser Hill, 270m

Having finally qualified Black Down, I had to find my way back to the road, which is quite a way from the trig point. Once on the fast descent I then made the classic mistake of not paying attention to the GPS, taking a wrong turn which meant retracing back part way up the hill.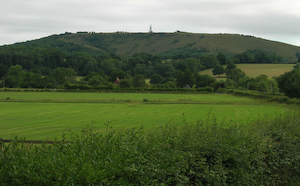 I made good progress to Petersfield, where I did a quick stop at my usual refueling garage. It serves hot food and coffee, which is very useful in the middle of a long wet winter ride. I didn't need those on this visit, I just bought some more sandwiches and another couple of litres of drinks.

Butser Hill is quite imposing by bike - you just see it rising above the flat landscape when you approach from the North. My GPS routed me up a lane approach - which turned out to be a green lane rather than a road. It was quite pretty, which made up for the poor surface. Definitely one for mountain bikes rather than road bikes.


The summit here is quite bare, with just the microwave relay station and the trig point, with a few trees on one edge. That gives magnificent views of the Isle of Wight and the South Downs. I set up for VHF by propping the bike up against the trig point, and assembling the aerial propped up in the pannier. The summit was relatively easy to qualify; I chatted to a chap stuck in a traffic jam on the M27, a station on the island and a couple of others. My second battery died on the final qualifying QSO, luckily after exchanging reports - though I managed to finish off with my handheld anyway. That was really my fault; I'd tried running high power whilst struggling on Black Down, which depleted my packs.
Part 4 - The ride home

The final stretch went quite quickly. I know many of these roads well, as they are the route home from some local Audax rides. There aren't many shops around, and with the heat I was increasingly concerned about the amount of liquid I had left. It lasted until I reached Alton, where I could grab some more from the sports centre.

From there it is a fast 20km back home. I'd been out for 11 hours 50 minutes, covered 108.32 miles, climbed 5927 feet and burnt 7828 calories. My average moving speed was only 14.7 mph, pulled down by the big queues into Guildford, and the weight of my radio gear didn't help!

It was a successful day, qualifying all three peaks and getting a century ride for the UMCA Year Rounder. My next big ride is the
Mille Cymru
, three loops (North, South and Mid Wales), 1026km, 14000m of ascent and a 75 hour time time- that should be truly epic, but at least I won't be loaded up with radio gear!